A rare jewel among Indonesian coffees, Bali Blue is an Arabica specialty coffee produced by smallholding farmers in the fertile volcanic highland area of the tropical paradise island of Bali. Featuring syrupy dark chocolate notes, molasses, brown sugar, and a spiced finish.
Regular price
Sale price
$19.99 USD
Unit price
per
Sale
Sold out
Share
View full details
ROASTER'S NOTES
After Mount Agung eruption in 1963*, the country' economy was devastated.
To restart Bali's agricultural industry, the government launched an island-wide coffee growing campaign and gave seeds to area farmers.
More than half a century later, Bali is home to more than 7,000 hectares of coffee plantations…all organic. Although these coffees cannot be certified as USDA organic, Bali has outlawed all pesticides and chemicals for all crops.
Local Region: Bali North
Process: Wet Hulled
Variety: Blue Bourbon, Typica
Altitude (meters): 1,100 - 1,500 masl
Harvest: April - June
Cupping Notes
Bali Blue is treasured for its complex flavors encased in a smooth and syrupy body. With our Vienna roast (slightly darker than a traditional medium roast), we bring out the bean's molasses and brown sugar highlights and layer them on the dark chocolate notes. Some of our tasters have even mentioned a slight anise, or even a black cherry, finish.
Yes, Skip's Bali Blue is indeed a complex bean waiting for you to unlock its hidden flavors.
WHY BUY OUR COFFEE?
HIGH ELEVATION & SHADE-GROWN

Coffee plants grown under a sun-filtering canopy allows the coffee cherries to develop slower. This delayed maturation intensifies flavors and nutrients with the coffee fruit, and the bean inside. Shade-grown coffee will naturally have more complex flavors — much like a fine wine — that our skilled roaster can enhance in the roasting process.

FRESH-ROASTED

There's nothing quite like the smell of fresh-roasted coffee. Savor that sweet, fragrant aroma every time you open our bag because all of our coffees are roasted AFTER we get your order. That means your bag of coffee goes from our roaster to your cup in less than five days.


WE'RE IN THE TOP 3%

We only sell specialty grade coffee. To earn the coveted "specialty grade" label, coffee beans must undergo a rigorous classification process that ensures they meet the highest quality standards. Only coffee graded 80 points or above on a 100-point scale by a certified coffee taster (SCAA) or by a licensed Q Grader(CQI) qualifies. Less than 3% of the world's coffee supply meets these demanding standards.
MEET OUR LABEL MODEL
Skip (2009-2023) was the right-hand dude that keeps everything running at ADCC.
He was our self-appointed head of security, labor relations expert, custodian, and pack disciplinarian.
He was also 200 pounds of Westie attitude squeezed into a 20-pound package of wiry white fur.

Skip joined us after a visit to an Ohio Mennonite farm that we later learned was most likely supplying dogs to puppy mills.

Those dogs don't pick their circumstances and they need homes too, right?
As soon as we met each other, it was an instant bond. He quickly forgot his mom, his littermates, and joined us for the long drive back home.
Over the years, Skipped has helped raise our daughters, other dogs in the family, kicked Bear's ass to keep him in line as a puppy, and joined us on many, many adventures.
That's why Skip represents our Single Origin line of coffees. To us, he is the symbol of precision, perfection, and quality…packed in a small package.
Blew me away
The freshness and rich flavor of this coffee is like experiencing coffee for the first time. Not only is it an absolute delight for my taste buds, but it's also a budget-friendly option that easily outshines the pricey, burnt-tasting coffees from Starbucks.
Perfect coffee in a French Press!
I've had this coffee ground for a moka pot and now French press and it's amazing brewed in either method! Smells so good during brewing and the taste is really fantastic. Highly Recommend! Skip's Single Origin Blue Ball is awesome!
Perfection
I've been searching for the perfect cup of coffee. Low acidity for my sensitive stomach combined with a delicious and flavorful medium roast makes this my morning go-to coffee. I've ordered this 3 times already and will keep doing so!
I'm in love with this coffee...and Skip 😁
I'm absolutely in love. The medium roast is smooth and mellow, with a hint of sweetness.. 5 gold stars! Plus, I'm becoming a big fan of Skip and his adventures on Instagram. A handsome adventure dog!
Smooth & mellow!
I'm a huge fan of Adventure Dog Coffees. I'm never disappointed! I may have found a new favorite with Skip's Bali Blue Moon. The flavor is smooth and mellow, with a light nutty undertone and just the right amount of sweetness. I've tried a lot of coffees but this one is definitely one of my favorites. Highly recommend it!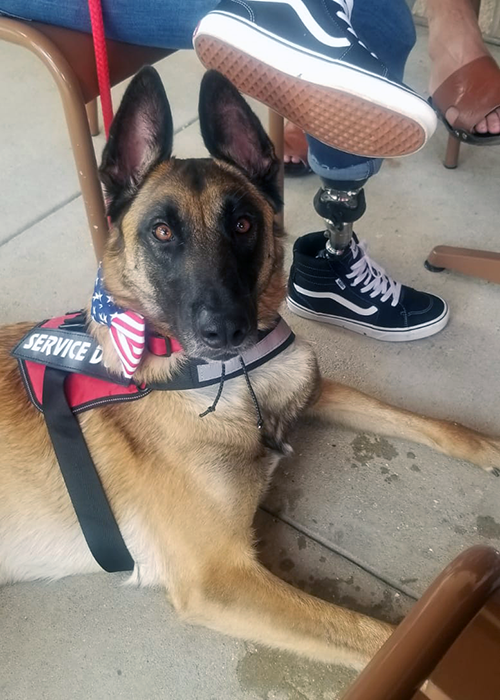 PROUD PARTNERS WITH THE RESCUE 22 FOUNDATION
At least 20% of proceeds from every bag of coffee sold goes directly to the Rescue 22 Foundation to provide the highest quality and task-trained service dogs to address the mental and physical health of our nation's combat veterans.
FAQ
IS THIS COFFEE FRESH?

Yes!

Unlike many other artisan coffee roasters, we don't roast small batches and keep them on the shelf waiting for an order to come in.

We get why they do it. It's all about inventory management and efficiency in roasting.

But, we at Adventure Dog Coffee are all about taste…as much as the efficiency gurus would like us to be otherwise.

All of our coffees are roasted AFTER we get your order.

We currently roast all new orders every Monday through Friday, excluding holidays. Since the beans have to degas for several hours after roasting, they are not packed in bags and shipped until the next business day. K-cups de-gas an extra day before sealing and shipping.
WHAT'S THE DIFFERENCE BETWEEN ROASTS?

This is going to be a mild oversimplification...so coffee snobs should not get their undies in a bunch with what we're going to say next.

Most American coffees are roasted to a medium. Just like most Europeans think American beer is weak and flavorless, they think the same about our medium roast coffees. That's why they generally like to go with a dark roast.

The thing to remember is that roasting coffee is just like any other type of cooking. The less you cook it, the more inherent flavors are present. The more you cook it, the more you taste the cooking process instead of the food.

Kind of like sushi vs. deep-fried fish.

Make sense?

Light-roasted coffee will have more pronounced floral and citrus flavors.

Dark-roasted coffee (French and Italian roast) will tend to produce more nutty and chocolaty overtones.

And medium roast is kind of a blend between the two…and a great way to start if you're not sure what your taste buds like yet.

If you're still not sure, reach out and we'll see if we can make some recommendations based on your taste preferences and favorite brewing method.
HOW LONG DOES IT TAKE TO GET MY COFFEE?

Our coffees are typically shipped the day following roasting. Beans have to de-gas before we seal them up in the bags or pods. This is why our 12-oz bags have a one-way valve near the top. This allows the beans to continue to vent gasses.

Most customers get their coffee in 3-5 days, depending on how motivated your USPS carrier is feeling that day.

Naturally, all bets are off around the holidays.

While most of our orders are roasted and shipped within 48 hours, we have zero control over what happens to your coffee once we hand it over to the  USPS.
DOES THE LABEL MODEL DOG COME WITH EVERY BAG OF COFFEE?

Ummmm…no. You need to step away from the computer and get outside to clear your head a bit my friend.
DO YOU REALLY DONATE MONEY TO THE RESCUE 22 FOUNDATION?

Absolutely!

Proceeds from every bag of coffee we sell goes directly to the Rescue 22 Foundation, a federally recognized 501(c)(3) nonprofit and recipient of the 2021 Guidestar Platinum Seal of Transparency.

We donate 20% of proceeds from every 12-oz bag of coffee sold. 

We'd love to do more but we're not a publicly traded coffee empire and content creation machine. We're a young small business and have to stick with a per bag profit-sharing with Rescue 22 for now.

Even if you don't drink coffee, consider buying a bag or 10 for your friends and help Rescue 22 get more highly skilled rescue dogs placed with more of America's veterans.