Ellie's Zenpresso is a fresh take on decaffeinated espresso. Perfect for those who love the taste of espresso but prefer to avoid caffeine, our Swiss Water® decaf Peruvian beans are roasted to a full, rich dark roast to bring out the exquisite flavors of dark chocolate and brown sugar.
Regular price
Sale price
$17.99 USD
Unit price
per
Sale
Sold out
Share
View full details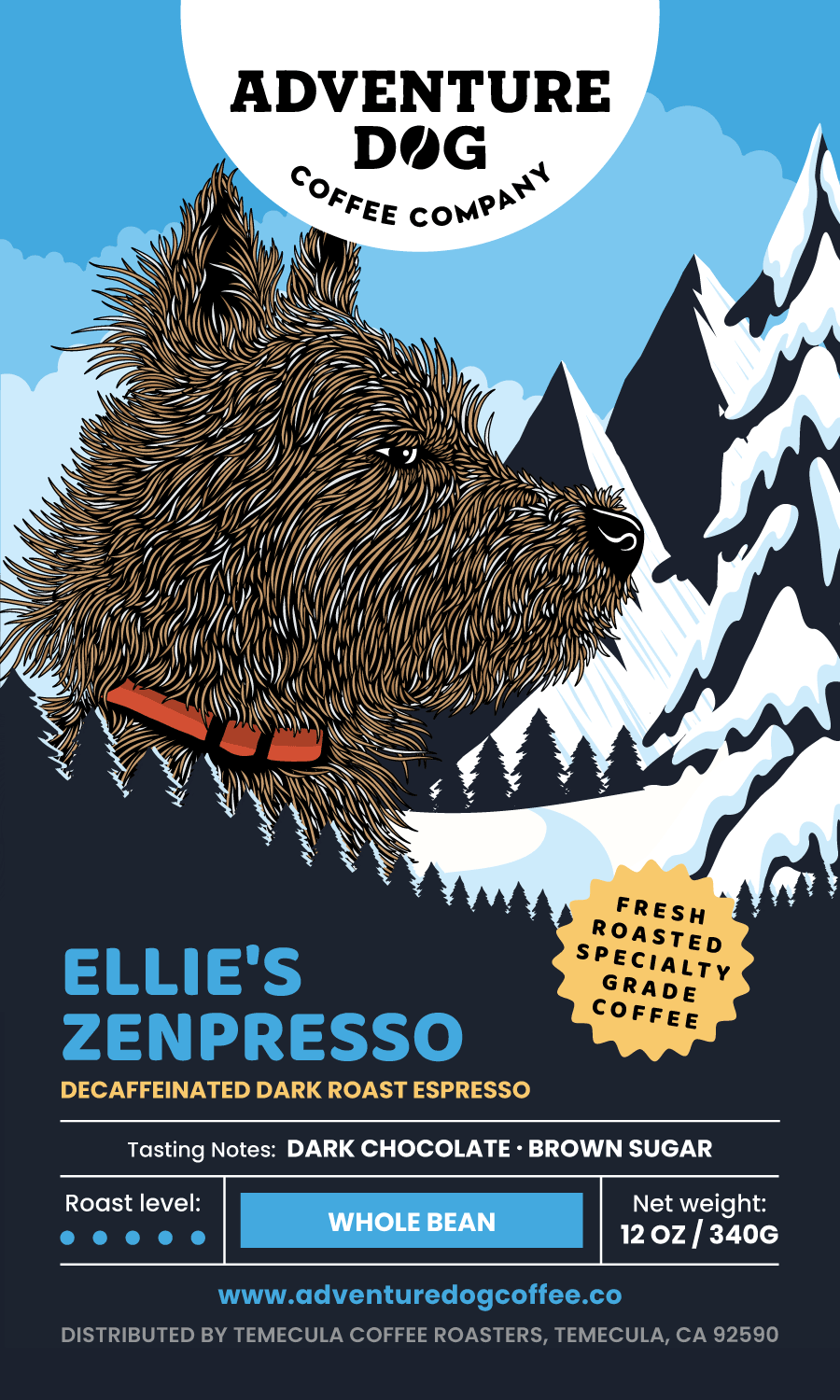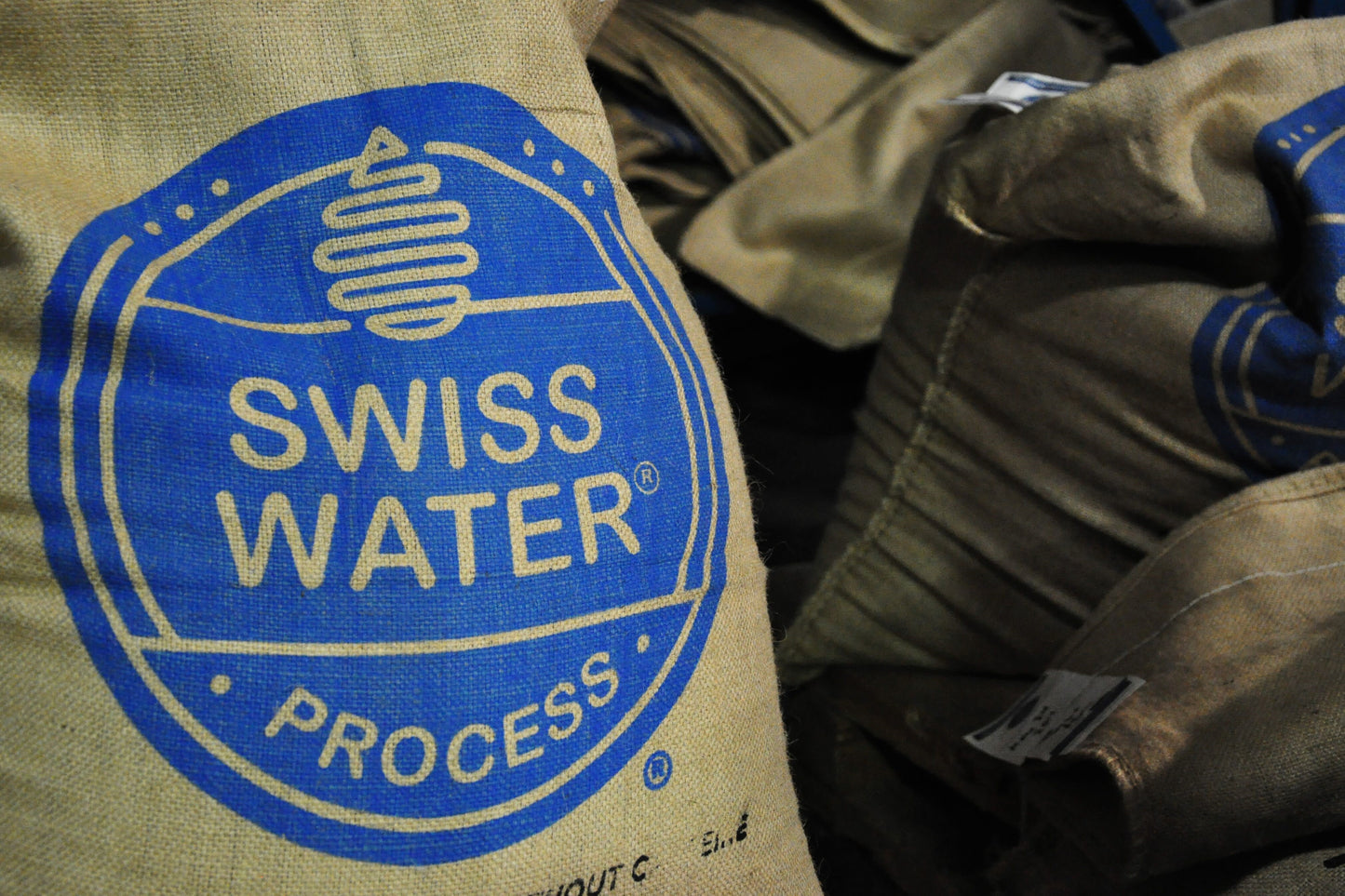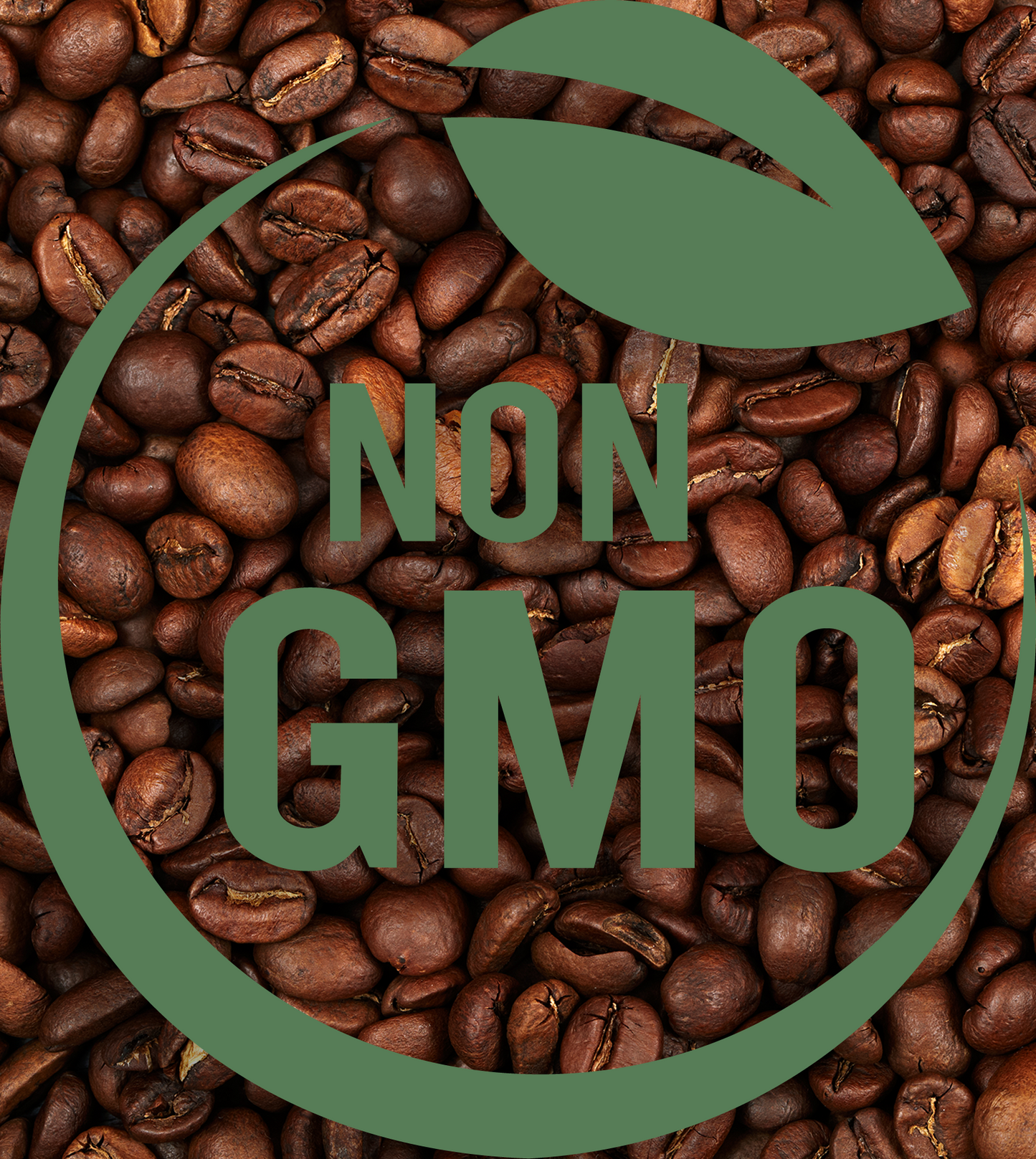 WHY BUY OUR ESPRESSO?
HIGH ELEVATION & SHADE-GROWN

Coffee plants grown under a sun-filtering canopy allows the coffee cherries to develop slower. This delayed maturation intensifies flavors and nutrients with the coffee fruit, and the bean inside. Shade-grown coffee will naturally have more complex flavors — much like a fine wine — that our skilled roaster can enhance in the roasting process.

FRESH-ROASTED

There's nothing quite like the smell of fresh-roasted coffee. Savor that sweet, fragrant aroma every time you open our bag because all of our coffees are roasted AFTER we get your order. That means your bag of coffee goes from our roaster to your cup in less than five days.


ONLY SPECIALTY GRADE

Specialty-grade coffee beans are beans that score 80-100 points using an objective scoring system outlined by the Specialty Coffee Association of America.
MEET OUR LABEL MODEL
Ellie joined our pack in 2018. A Cairn terrier out of Reno, she was an "off-color runt" of the litter. What she lacked in size, she more than made-up for in attitude and moxy. Her limitless energy and uncanny intelligence make her the perfect embodiement of our espresso line-up.
Sensory Delight!
Looking for a delicious dark roast? Ellie's Zenpresso (Decaf) is a sensory delight. From the moment you break the seal to reveal those dark, beautifully roasted whole beans and inhale the intoxicating aroma, you know you've made an excellent choice. I AeroPress 24oz (3 cups) at a time to enjoy a hot cup immediately, then chill the remainder to enjoy iced or re-heated another day. I'm no coffee connoisseur, but I do enjoy and appreciate a great roast, and this definitely satisfies 100%. Thank you ADCC and John for making this roast available. 5 stars = 4 paws!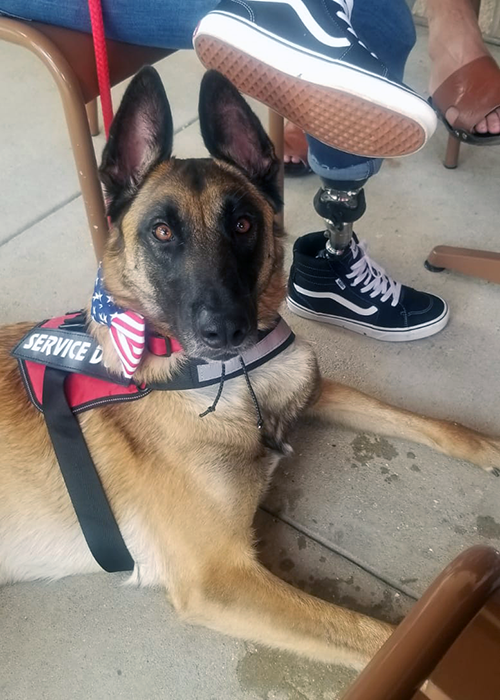 PROUD PARTNERS WITH THE RESCUE 22 FOUNDATION
At least 20% of proceeds from every bag of coffee sold goes directly to the Rescue 22 Foundation to provide the highest quality and task-trained service dogs to address the mental and physical health of our nation's combat veterans.
FAQ
IS THIS COFFEE FRESH?

Yes!

Unlike many other artisan coffee roasters, we don't roast small batches and keep them on the shelf waiting for an order to come in.

We get why they do it. It's all about inventory management and efficiency in roasting.

But, we at Adventure Dog Coffee are all about taste…as much as the efficiency gurus would like us to be otherwise.

All of our coffees are roasted AFTER we get your order.

We currently roast all new orders every Monday through Friday, excluding holidays. Since the beans have to degas for several hours after roasting, they are not packed in bags and shipped until the next business day. K-cups de-gas an extra day before sealing and shipping.
WHAT'S THE DIFFERENCE BETWEEN ROASTS?

This is going to be a mild oversimplification...so coffee snobs should not get their undies in a bunch with what we're going to say next.

Most American coffees are roasted to a medium. Just like most Europeans think American beer is weak and flavorless, they think the same about our medium roast coffees. That's why they generally like to go with a dark roast.

The thing to remember is that roasting coffee is just like any other type of cooking. The less you cook it, the more inherent flavors are present. The more you cook it, the more you taste the cooking process instead of the food.

Kind of like sushi vs. deep-fried fish.

Make sense?

Light-roasted coffee will have more pronounced floral and citrus flavors.

Dark-roasted coffee (French and Italian roast) will tend to produce more nutty and chocolaty overtones.

And medium roast is kind of a blend between the two…and a great way to start if you're not sure what your taste buds like yet.

If you're still not sure, reach out and we'll see if we can make some recommendations based on your taste preferences and favorite brewing method.
HOW LONG DOES IT TAKE TO GET MY COFFEE?

Our coffees are typically shipped the day following roasting. Beans have to de-gas before we seal them up in the bags or pods. This is why our 12-oz bags have a one-way valve near the top. This allows the beans to continue to vent gasses.

Most customers get their coffee in 3-5 days, depending on how motivated your USPS carrier is feeling that day.

Naturally, all bets are off around the holidays.

While most of our orders are roasted and shipped within 48 hours, we have zero control over what happens to your coffee once we hand it over to the  USPS.
DOES THE LABEL MODEL DOG COME WITH EVERY BAG OF COFFEE?

Ummmm…no. You need to step away from the computer and get outside to clear your head a bit my friend.
DO YOU REALLY DONATE MONEY TO THE RESCUE 22 FOUNDATION?

Absolutely!

Proceeds from every bag of coffee we sell goes directly to the Rescue 22 Foundation, a federally recognized 501(c)(3) nonprofit and recipient of the 2021 Guidestar Platinum Seal of Transparency.

We donate 20% of proceeds from every 12-oz bag of coffee sold. 

We'd love to do more but we're not a publicly traded coffee empire and content creation machine. We're a young small business and have to stick with a per bag profit-sharing with Rescue 22 for now.

Even if you don't drink coffee, consider buying a bag or 10 for your friends and help Rescue 22 get more highly skilled rescue dogs placed with more of America's veterans.