moss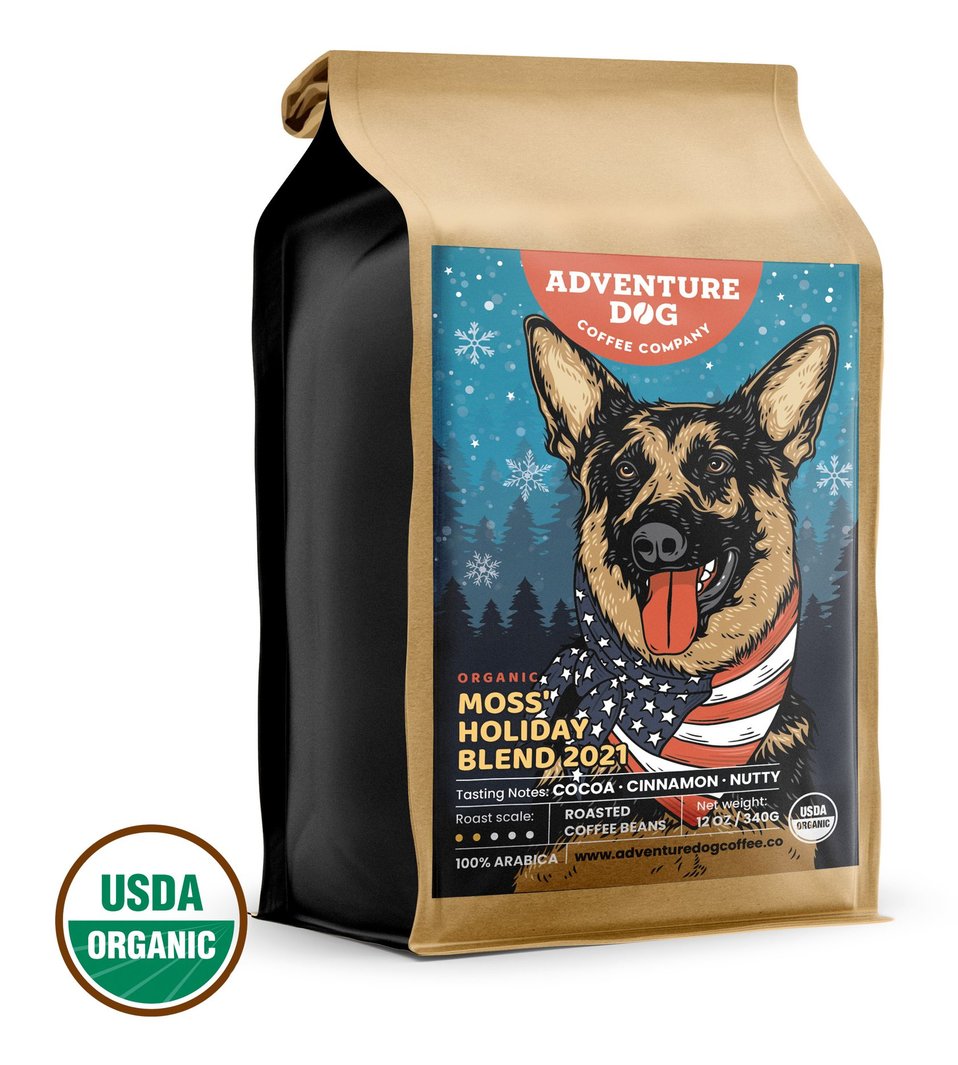 Currently roasted to order on Mondays & Wednesdays
⭐⭐⭐⭐⭐
"Adventure Dog hit this one out of the park. I thought your 2020 holiday blend was incredible but every cup of this year's holiday coffee tastes like Christmas morning!"
Terri, Adventure Dog Coffee Customer
NOTES OF RICH COCOA, A HINT OF WARMING CINNAMON, AND AN ALMONDY CREAMY FINISH
Moss' Holiday Blend is smooth, balanced coffee that is the result of an artful blending of high elevation, shade-grown organic Arabica coffees from Colombia and Mexico.

100% profits from every bag sold trains a lifesaving K9 partner for a veteran
ORDER NOW
⭐ ⭐ ⭐ ⭐ ⭐
"This coffee is pure liquid gold for the holidays!"
- Geoff
THE PERFECT BLEND OF MEXICO'S FLORAL AROMA AND DELICATE FLAVOR BALANCED BY GUATEMALA'S CHOCOLATY SWEETNESS AND SMOOTH BODY
DECADENT DARK CHOCOLATE AND SWEET CARAMEL WITH A NUTTY, SMOOTH BODY
THE EXTRA TIME IN THE ROASTER BRINGS OUT THE CHOCOLATY INTENSITY WHILE STILL RETAINING SOME OF THE SWEETNESS OF A MEDIUM ROAST
WE USE A FULL CITY ROAST WHERE THE BEANS ARE ROASTED SLIGHTLY DARKER THAN A TRADITIONAL LIGHT ROAST TO BRING OUT THE FULL FLAVOR PROFILE
THE PERFECT BLENDING OF MEXICO'S FLORAL AROMA BALANCED BY THE EARTHY COLOMBIAN CHOCOLATY SWEETNESS AND SMOOTH BODY.
SEVERAL OF OUR TASTE TESTERS SAID IF CHRISTMAS TASTED LIKE COFFEE, IT WOULD TASTE LIKE OUR 2021 BLEND. FEATURING HOLIDAY SPICES FOLLOWED BY A HINT OF DECADENTLY RICH COCOA AND A NUTTY FINISH.
THE LITTLE BIT OF EXTRA TIME IN THE ROASTER KEEPS THE FRUITY AND FLORAL FLAVORS OF A LIGHT ROAST WHILE BRINGING IN THE SWEET RICHNESS OF A MEDIUM ROAST.
ORDER NOW
WHY DRINK MOSS' HOLIDAY BLEND?
Our coffee is shade-grown and cultivated between 900-2,100 meters. In these higher elevations, coffee cherries take longer to develop and ripen. This slower growth allows more complex flavors to infuse into the bean.
Our coffee is naturally dried using only the power of the sun and wind. We keep the coffee fruit (cherry) on the bean throughout the drying process. This creates a fruitier and more fuller-bodied tasting experience.
Our coffee is produced without the use of pesticides or herbicides. Our farmers emphasize soil health, recycling, composting, and sustainability.
ORDER NOW
MEET OUR 2021 HOLIDAY BLEND HEROES
THE MAN WHO INSPIRED A GENERATION
Gene Wentz served in Vietnam as a SEAL and earned several decorations, including the Silver Star, Bronze Star, three Presidential Unit Citations, three Navy Unit Citations, and two Vietnamese Crosses of Gallantry.
He is also the author of the "Men in Green Faces," a classic novel about the SEALs in Vietnam.
Published in 1992, the book has been described as "A Mission Impossible-style page turner" by the Los Angeles Times.
Wentz's writings have inspired a generation of young men to become modern day frogmen
SUCCESS TAKES A TEAM
One of the cornerstones of the SEAL community is the swim buddy.
The swim buddy is your training partner, through thick and thin. You are responsible for supporting each other through the trials and tribulations of one of the world's toughest military training programs.
The concept is used to reinforce the importance of teamwork and is one that is carried by many SEAL's throughout their lives.
Years of wear and tear had exacted a toll on Gene's body. The former commando who could run and swim for miles now needed assistance to safely walk or to even stay balanced while standing.
Gene once again needed a swim buddy.
THE FOUR-LEGGED FURRY SWIM BUDDY
Gene knew a service dog could help him navigate daily life as well as restore his mobility, independence, and freedom.
Fortunately, he met Rick and Brett Bjelke in Reno, Nevada. The Bjelkes are Rescue 22 Foundation Ambassadors and quickly connected Gene with the organization's leadership to start the process of finding the right dog.
That dog turned out to be Moss, a German Shepherd who entered the Rescue 22 training pipeline in October 2020. 
His previous owner knew there was something special about her dog. He wasn't going to be satisfied living on the couch. Moss needed a job that would challenge his high intelligence while still allowing him to be a compassionate companion. 
THE TRAINING BEGINS
She donated Moss to Rescue 22 through trainer John Devine. As a former SEAL and R22 executive board member, John figured he just might have found Gene's new furry swim buddy.
John spent the next several months polishing Moss' obedience skills and teaching him critical service dog tasks such as opening and closing doors, as well as retrieving and picking up a variety of objects.
All of these skills were tested and honed in a variety of environments to ensure Moss could carry out his job without being distracted. 
SPECIALIZED SKILLS
Each R22 service dog is also trained to meet the unique needs of the new service recipient, or handler. One of the specific tasks Moss needed to learn was how to help Gene take his daily medications.
Gene uses audio alerts on his phone to remind him when to take his meds. Unfortunately, years of things going boom near his ears has damaged his hearing and he doesn't always hear the alarm.
John trained Moss to use the alarm sound from Gene's phone as a prompt. When Moss hears that specific sound, he nudges Gene as a reminder to take his medications.
More important, Moss needed to learn several techniques to help improve Gene's mobility. This included bracing to provide stability when Gene was standing, as well forward momentum techniques to pull Gene out of a seated position.
"I CAN'T GO ANYWHERE WITHOUT HIM."
Rescue 22 delivered Moss to Gene in August 2021. John worked with Gene and showed him how to integrate this highly trained canine into his life.
"Moss is smarter than I am," says Gene. "He knows how to sound the alarm, grab a buzzer, and give me points of contact for stability. I'm the one who needs all of the training now."
Thanks to your support of the Rescue 22 Foundation, Gene has his new swim buddy.
Together, Gene and Moss are creating a bond that will not only restore this veteran's freedom and independence, but will enable new adventures for the next chapter in their lives.
ORDER NOW
OTHER "CRAFT" COFFEES vs ADVENTURE DOG COFFEE
THEIRS
Roasted in large batches at higher temperatures to shorten roasting time and maximize production.
Higher temps means burnt and bitter-tasting coffee...but that darker color looks awesome.
Sit on shelves for weeks or months to ensure maximum staleness
End result? Stale, bitter-tasting, and overpriced sawdust masquerading as coffee.
ADVENTURE DOG COFFEE
We roast every coffee to order on Mondays or Wednesdays.
Roasted low and slow to bring out each bean's inherent natural flavors.
We have no inventory of roasted coffee sitting around. Each order is shipped within 24-36 hours of roasting.
End result? Fresh, delicious coffee that tastes the way premium coffee should...delivered to your door.
⭐ ⭐ ⭐ ⭐ ⭐
"Smooth, rich, flavorful. A festive treat perfect for cold winter mornings. "
- Steph
ONE 12-OZ BAG + TUMBLER + $15 E-GIFT CARD
RECOMMENDED BREWING PARAMETERS
GOT QUESTIONS? WE GOT ANSWERS (MOSTLY)
If I buy the holiday blend, will that money go to gene & moss?
What's the difference between roasts?
Why isn't every coffee available in every roast?
DO THE DOGS WE SEE IN THE ADS COME WITH THE COFFEE?
How long does shipping take?
How long will my coffee stay fresh?
Does the coffee have any strange ingredients or added flavors?
Do you really donate money to support service dogs and veterans?