Cold Traffic_Bear 2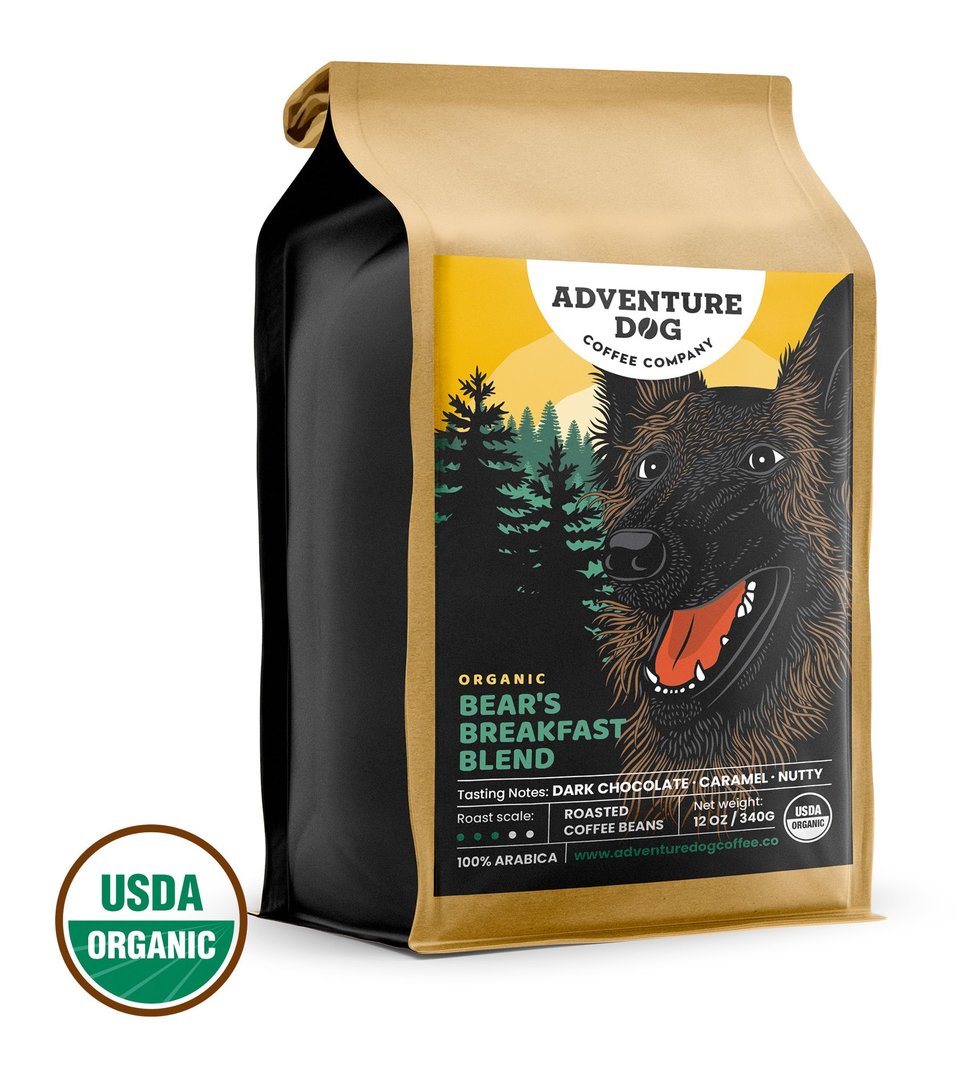 Currently roasted to order on Mondays & Wednesdays
⭐ ⭐ ⭐ ⭐ ⭐
"This coffee is bold yet smooth. The subtle hints of dark chocolate and caramel with the nutty finish powers a delicious start to my mornings."
Amy, Adventure Dog Coffee Customer
Coffee is more than a caffeine source or great taste.
It's a memory.
When I was growing up, my mother would start the coffee in her noisy yellow glass-topped percolator and then wake up the children. For most of my life, the first thing I'd smell in the morning was fresh-brewed coffee.
I fell in love with the smell of coffee a long time before I started to drink it.
My first cup of coffee in the morning is a small way I've stayed connected to those fond childhood memories and my mother.
$2.22 for every bag sold trains a lifesaving K9 partner for a veteran
ORDER NOW
⭐ ⭐ ⭐ ⭐ ⭐
"My mornings have to start with this coffee. It's my zen-moment...with caffeine."
- Jori
WHY BEAR'S BREAKFAST BLEND?
Our coffee is shade-grown and cultivated between 900-2,100 meters. In these higher elevations, coffee cherries take longer to develop and ripen. This slower growth allows more complex flavors to infuse into the bean.
Our coffee is naturally dried using only the power of the sun and wind. We keep the coffee fruit (cherry) on the bean throughout the drying process. This creates a fruitier and more fuller-bodied tasting experience.
Our coffee is produced without the use of pesticides or herbicides. Our farmers emphasize soil health, recycling, composting, and sustainability.
ORDER NOW
ROASTED IN AUSTIN BUT WITH AUSTRIAN FLAIR
WE USE A VIENNA-STYLE ROAST WHERE THE BEANS ARE ROASTED SLIGHTLY DARKER THAN MEDIUM TO BRING OUT THEIR FULL FLAVOR PROFILE.
THE PERFECT BLEND OF MEXICO'S FLORAL AROMA AND DELICATE FLAVOR BALANCED BY GUATEMALA'S CHOCOLATY SWEETNESS AND SMOOTH BODY
DECADENT DARK CHOCOLATE AND SWEET CARAMEL WITH A NUTTY, SMOOTH BODY
THE EXTRA TIME IN THE ROASTER BRINGS OUT THE CHOCOLATY INTENSITY WHILE STILL RETAINING SOME OF THE SWEETNESS OF A MEDIUM ROAST
ORDER NOW
OTHER "CRAFT" COFFEES vs ADVENTURE DOG COFFEE
THEIRS
Roasted in large batches at higher temperatures to shorten roasting time and maximize production.
Higher temps means burnt and bitter-tasting coffee...but that darker color looks awesome.
Sit on shelves for weeks or months to ensure maximum staleness
End result? Stale, bitter-tasting, and overpriced sawdust masquerading as coffee.
ADVENTURE DOG COFFEE
We roast every coffee to order on Mondays or Wednesdays.
Roasted low and slow to bring out each bean's inherent natural flavors.
We have no inventory of roasted coffee sitting around. Each order is shipped within 24-36 hours of roasting.
End result? Fresh, delicious coffee that tastes the way premium coffee should...delivered to your door.
⭐ ⭐ ⭐ ⭐ ⭐
"Bear's Blend is smooth and delicious every way I make it. Aeropress, French Press and even in my old Mr. Coffee machine. For whatever reason, this coffee is very forgiving of my many 'brewing shortcomings.' 🤪 But the best part is when I put this in my reusable K-cup at work. My co-workers want to be my best friend as soon as that wonderful aroma fills the kitchen! "
- Cindy H.
RECOMMENDED BREWING PARAMETERS
MEET OUR LABEL MODEL
Bear was four months old when he was found hobbling along the mean streets of North Las Vegas in 2012. 
Animal Control swept him up and put him in a shelter.
He was never claimed. He was marked for euthanasia due to the congenital birth defects in his feet and legs. 
The Animal Foundation of Las Vegas swooped in to save him and we, in turn, adopted our own furry little Tiny Tim about 10 days before Christmas.
On a good day, Bear has 2-½ legs he can use to hop along. His balance is not the best so he bounds more than he walks. He uses this "handicap" to his advantage and love to use his front leg nub as a hook to pull everyone — dogs and humans alike — in for a hug.
When you place an order, he'll most likely be the one sending you a special thank you.
ORDER NOW
PROUD PARTNERS WITH THE RESCUE 22 FOUNDATION
PROVIDING LIFE-SAVING SERVICE DOGS FOR VETERANS
Meet Moss the $22,000 mobility dog.
Moss was one of the dogs the Rescue 22 Foundation saved, trained, and donated as a specialized service dog to a veteran in 2021.
If you bought Adventure Dog coffee, you helped make that possible.
Training a service dog takes about 18 months at cost ranging between $20,000 - $30,000. 
If you're one of the hundreds of American veterans who need a service dog…
The VA won't pay for it. 
And nearly every service dog organization makes the new owner take out loans or borrow money to cover that cost.  
Can you imagine what traumas our veterans had to endure to get to the point of needing a life-saving service dog?
Then have to hold bake sales to raise money to get that dog?
Neither can we.
That's why we donate $2.22 from every 12-oz bag of coffee we sell to the Rescue 22 Foundation.
They save shelter dogs, train them to be service dogs, and donate them to veterans...
And give them ongoing training to cement the bond between dog and handler...
And Rescue 22 NEVER takes a penny from a veteran to do any of this.
The Rescue 22 Foundation earned the 2020 Guidestar Platinum Seal of Transparency and is a federally recognized 501(c)(3) nonprofit.
Supporting Rescue 22 is one way we advance our mission of enabling adventure through craft coffee and canines...
Giving dogs...and their new owners...a second chance at life.
2-WEEK SUPPLY
(8-10 CUPS)
4-WEEK SUPPLY
(16-20 CUPS)
4-WEEK SUPPLY
(32-40 CUPS)
3-BAG SAMPLER PACK
OF OUR CUSTOMER FAVORITES
GOT QUESTIONS? WE GOT ANSWERS (MOSTLY)
What's the difference between roasts?
Why isn't every coffee available in every roast?
DO THE DOGS WE SEE IN THE ADS COME WITH THE COFFEE?
How long does shipping take?
How long will my coffee stay fresh?
Does the coffee have any strange ingredients or added flavors?
Do you really donate money to support service dogs and veterans?